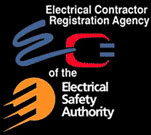 "The service, professionalism & courtesy from Jagwire Electrical was top notch. I had the panel changed in my home & everything that was promised from Frank & Lucy was delivered. From the first point of contact until the work was completed was exceptional and flawless. I would highly recommend Jagwire Electrical Services Inc., to all of my family & friends. It is tough to find quality work & customer services and I found it with them." - Antonio G.
"I called Jagwire Electrical in a panic, we needed the charger for our reach truck wired into the main panel ASAP. Frank didn't know me from the next guy, however he sent his crew over & they had the job done within the hour. I was treated like I had been a customer of his for years. The level of service was AAA, I know who's name to pass along & who is taking care of all my electrical needs." - Joseph McBride (SLM LOGISTICS INC.)
"Dear Lucy, We were extremely please with Jagwire Electrical Services Inc. Everyone was so professional & polite, especially Frank. He took the time to explain everything in detail & he also has a great sense of humor. We would definitely recommend & use Jagwire Electrical again for any future electrical work That we may have. Thanks again, you guys were great!" - Peter & Christine B.
"I have used Jagwire Electrical Services Inc., quite a bit in the last few years & I can tell you that they are a pleasure to work with. They are my preferred electrical contractor. I have had them install conduit to house structure cabling as well as providing electrical circuits in IT rooms plus much more. Jagwire Electrical is definitely a contractor that you can count on to provide reliable & professional service. I know this sounds like a cliché, but when Frank says something, he stands by his words and products 100%. I would strongly recommend Jagwire Electrical Services Inc. To anyone looking for expert electrical service. No job is too big or small for them". - VAUHGAN TELECOM
"At FRA Construction, we have used Jagwire Electrical Services Inc consistently throughout our 15years in business & will continue to do so. We have found them to be very dependable & an absolute pleasure to work with. Jagwire has always upheld their reputation over the years for completing all of their jobs in a timely manner and with exceptional workmanship."
- Gianfranco Smeriglio (FRA CONSTRUCTION)
"Jagwire Electrical Services Inc., is a professional & reliable electrical company. As a general contractor, I have used Jagwire for many years and many electrical jobs & projects. They stand behind their work 100% and always finish in a timely manner & most importantly always on budget." - Tony Grossi., President TOTAL CONCEPT RENOVATIONS INC.
"We have had major projects performed by Jagwire Electrical over the last several years. From quotation turnaround to project completion the service from all of the staff has been exceptional. We have received numerous compliments of how the lighting in our home was designed & installed. The projects have started and ended on time and as quoted. Frank & his staff have all been professional & helpful at all times. We will use and refer the services of Jagwire Electrical in the future." - Joe & Anne-Marie Satisfied Customers!
"I was quite please with the work done in my home - a panel replacement. Frank listened carefully to my description of the problem & offered repair options. The work on my chosen option was scheduled to fit my constraints & started & finished on time that same day, which also included the wait for Powerstream to connect & disconnect power to the house. Everyone was both polite & friendly, so that both me and my wife were comfortable with what was going on." Thanks again., FRED C.
"Dear Frank, Lucy & all staff at Jagwire Electrical Services Inc., We cannot THANK YOU enough for all of your hard work. We are so very grateful for your patience (when we asked question, after question) quality of work, special attention to details and most of all your guidance in bringing our vision to fruition while still keeping us within BUDGET!!! Everything looks amazing, and you have given us the peace of mind that an Electrician with ESA standards have been in our home and everything was fully inspected. Thanks again Jagwire!" - Carmela S.
"Frank and Lucy from Jagwire Electrical Services Inc., I just wanted to say that we've been using Jagwire Electrical services for our business and personally for over 2 years. The professionalism and knowledge that Frank provides, gives me and my customers a greater peace of mind. He has provided excellent customer service and quality workmanship for everyone of our jobs. I would highly recommend his services to anyone looking for a highly skilled electrician!"
- Matteo and Lesley Cicciarella, Owner Operator, Creative Pools and Spas Inc.