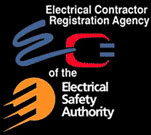 Jagwire's founder and licensed Master Electrician Frank Guido is passionate about high quality electrical services for a fair and reasonable price.
As an approved electrical contractor with ESA and member of the ACP program, Frank has worked with many top electricians and contractors and has constructed a specialized team of employees which will provide you with the utmost care & respect in service.
With the founding of Jagwire in 2001, Frank has made his vision into a reality by providing cost effective and high level of electrical services to the everyday home and business owner.